troy journal #2, 2019
coloured pencil, ink + watercolour on paper
a continuing reflection on what it means to inhabit unceded spaces. an abstract collection of impressions and thoughts.
troy journal one, 2019
pencil crayon + graphite on paper
this drawing is a reflection on place, gathering sights, sounds and sensations into a collage of impressions. what are the elements that inform our experience of place? what do our memories look like? how do they conflate, fade and warp through the act of remembering? further, how do social relationships affect how we perceive place? what does it mean to be a good guest (particularly when you are an uninvited guest)?
original drawing for lunes poster, 2019
pencil crayon on paper
lunes is a music and performance series in montréal that features women and non-binary artists. this poster is an amalgamation of symbols playfully co-existing. is the smiley one big full moon? or is it a telescope view of the sky? as a non-binary person i feel conflicted about essentialising, binary associations of the feminine with the moon, night time, and water. while not dismissing these associations, this drawing was a way of jumbling these ideas and probing their relevance. it was also just a lot of fun, which is important.
shadow clown, 2019
oil and oil pastel on canvas
this painting is based on a vintage photograph in a beautiful british columbia magazine from the 1960s. i am fascinated by the legacy of mid-century provincial pride and the experiences of these european descendents on stolen lands. spectacle, theatricality and novelty were fundamental to early place-making and touristic identity building. amusement parks, circuses and rodeos played into the public consciousness, building ideas of hierarchies and mythologizing the relationships between people and between people and the land/non-humans. the monotone greyness of the figure recalls clay as well as greek statuary. the patterns of a herlequin costume are draped like a flag in the background. black daisies drip behind the figure. it is a dream or a memory shifting and evaporating. was that a laugh or a cough? a puff of smoke.
daisy ghost, 2019
oil paint + gesso on birch panel
this painting is a portrait.
tapestry: failures series, 2019
yarn, fabric + plastic mesh
in creating my tapestries i work intuitively and integrate found/second-hand materials. i think of these pieces as painting with fibres. constructing these pieces allows me to re-purpose materials that are otherwise destined for the landfill while also challenging the inaccessibility of traditional oil painting.
several failures + their debris, 2019
multi-media installation (wood, canvas, oil paint, oil pastel, acrylic paint, skateboard, yarn, plastic flowers, plastic cup, found objects)
this installation was an investigation into the queering of time, labour, productivity and material through risk, refusal and failure. what defines the limits of a painting? by opening up my conception of painting to be an arrangement of shapes. colours, textures and planes, "paint" is therefore allowed to be an object rather than a defined substance.
ode to shadbolt, 2019
oil paint, oil pastel, acrylic + gesso on microfibre fabric
this painting was constructed through layering of life studies and reactions to changing environments. an exercise in compositional conundrums, transformation and mark-making.
testing, 2019
pencil crayon, graphite, markers, balpoint pens, oil markers, watercolour paint, acrylic paint + gesso on microfibre fabric.
this large-scale piece (8' x 8') is based on a smaller experiment, taking a mass of doodles and expanding them to a monumental scale like that of an oil painting. the images and words are banal, yet their scale is "grand." the repetition of words like "yes" and "nope" convey frustration and uncertainty, while also calling to mind consent. smiley faces, warped and flipped upside down, trouble the vapidness of the imagery. the obsessiveness of the drawing, laboriously re-drawn on a scale that is absurd, suggests obsessive, troubled rumination as well as ambivalence, confusion, and futile gestures.
testing version one, 2019
marker, ball point pen, pencil crayon, oil marker, graphite on microfibre fabric
an accumulation of doodles, prototype for testing version two.
there's a mustang under there, 2018
oil on canvas
i realised i hate painting cars.
uh oh, 2019
uh oh is an intuitive, curiosity driven exploration of failure. the canvas slides down the wall onto the floor, potentially falling or slumping but also evading or escaping the restrictions of normative display methods. doodles, graffiti and a generous sprinkling of rhinestones float across the canvas, embellishing the hybrid painting-object that is also a notebook page, drawing and, with the protrusions of the beam and brick that pull the canvas out into space, a sculpture. uh oh is absurd and humorous. it is unbound, deconstructed, and existing in emancipatory state of in-betweenness.
image from misconstructed at the vav gallery, photo by teodora stefan.
uh oh (detail), 2018-2019
detail from uh oh painting installation.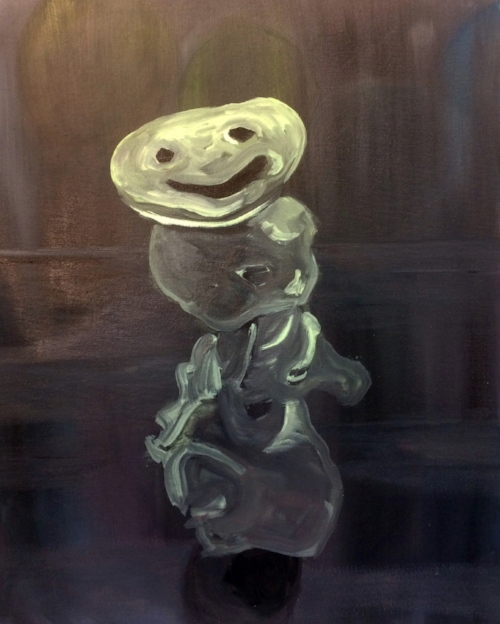 tatertot ghost, 2018
oil on canvas
tatertot ghost is a still life of ambiguous, amorphous objects. in the background, hazed over coloured balloons are barely discernible.
banana face, 2018
graphite on paper + digital
a still life of an apple, an orange and a banana coming together to form a face.
alter ego, 2018
oil paint on canvas
don't call me nice
self portrait in the okanagan, 2018
oil, acrylic + gesso on canvas
modelled after formal renaissance portraits, such as the duke and duchess of urbino, this painting depicts the artist against the quintessential okanagan landscape. these views are coveted by tourists and the wealthy people who purchase and build their summer homes here. gentrification has doubled the cost of living here within a period of only a few years, creating a plethora of social issues in an area already hard-hit by seasonal employment fluctuations. the artist is here depicted with a red painted nose, referring to the role of clowns as social commentators
a clown, a storm cloud, fifteen flavours of tears, 2018
oil + oil pastel on canvas
a clown, a storm cloud, fifteen flavours of tears depicts a clown-like character with a green witch nose, melting, streaming, transfiguring in all of its overwhelming grief and frustration.
a ghost (the stages of water), 2018
oil + oil pastel on wood panel
a ghost (the stages of water) is a portrait composed of gestural marks, reactions to memory. it is a painting composed through feeling. puddles gather, streams trail, vapours and clouds drift and rains dribble: water is here a way evoking unfixity and changing states.
stacked emotions, 2018
oil + oil pastel on canvas
this is how my face sometimes feels from the other side
dog + his man, 2018
mixed media on reclaimed canvas
for the love of dog.
abstract study, 2018
oil + oil pastel on canvas
sometimes, paint is paint
tightrope walker (fuck off), 2018
acrylic, oil paint + graphite on wood
embroidery (bust study), 2018
embroidery on cotton
this is a small embroidery drawing inspired by greek statuary busts. this bust is surrounded by bursts of colour, like confetti. a dark blue gash of tears strikes across their cheek.
tapestry. 2018
cotton cording, various yarns + cotton fabric
i approach my tapestry making intuitively, breaking the rules that were suggested by my teachers at risk of the structural integrity of the object. what does it mean to insert chaos into a structured, grid-like production method? what is the significance of laboriously constructing something, especially a craft that is so tedious, in the face of mass-production, mass-waste and the climate crisis? chance dictates the shapes that are woven into place, although abstract stories emerge in the finished piece. maybe those are storm clouds dropping sheets of rain and fluorescent lightning. all of the materials in the weft are second-hand, reclaimed materials. maybe it's a broken tv screen showing the landing of a UFO. maybe it's a waste of time.
sculpture study: topless, 2018
watercolour + graphite on paper
floating skull, 2018
watercolour, acrylic, graphite + gesso on canvas
a sentient skull glowing with all the electric absurdity of existence, floating amongst some chill flowers.
a dream, time travel, 2017
watercolour + graphite on board
this teeny-tiny drawing depicts two figures pulled from a beautiful british columbia magazine. what happened to these settlers and where are their ghosts now? what were their dreams? did they feel the language of the land gesturing to them? how did they draw lines of love and community between one another? if we look hard enough, could we witness their echoes?
butt, 2017
watercolour on paper
commissioned for the webseries literally, directed by stuart gillies and starring shane koyczan
wiggly, 2017
graphite + watercolour on paper
based on a portrait in a 1960s edition of beautiful british columbia magazine, this drawing playfully fragments the person, as if in a dream, a hallucination or an incomplete recollection. through my drawing i imagine the psychological state underneath the staged, postured photograph.
another clown, 2017
watercolour + graphite on paper
lady + confetti, 2017
watercolour + graphite on paper
night vision, 2017
watercolour + graphite on board
me + my snakes, 2017
miss tod mountain, 2017
graphite + pencil crayon on paper
grass on grass, 2017
graphite + coloured pencil on paper
new years 1973, 2017
graphite + pencil crayon on paper
new years 1974, 2017
graphite + pencil crayon on paper
greetings from , 2017
six people + one dog gather at a watermill, 2017
graphite + pencil crayon on paper
canoers, 2017
mess pas avec , 2017
ghost egg, 2017
watercolour + pencil crayon + graphite on paper
woman's face in purple egg, 2017
watercolour + graphite on paper
masked venus, 2016
pen + pencil crayon on paper